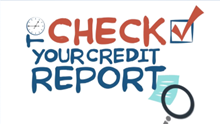 The Consumer Financial Protection Bureau (CFPB), a federal agency, requires most employers to provide a notice of "Summary of Your Rights Under the Fair Credit Reporting Act" before conducting background checks. Model forms and disclosures in English and Spanish are available on the CFPB website under the "Compliance" section. Information in background checks is often used to determine a person's eligibility for credit, employment, insurance, and rental housing.
The "Summary of Your Rights…"  notice should be given to applicants when conducting background investigations as well as if an employer were to take "adverse action" in response to a background check (a "consumer report" as defined under the FCRA).
The FCRA defines a consumer report as any communication that contains information about an individual's creditworthiness, credit standing, credit capacity, character, general reputation, personal characteristics, or mode of living.  Criminal background reports, workers' compensation history, medical reports, motor vehicle reports, reference checks, education verification, license or past employment history, credit history reports, and general background reports can be considered FCRA consumer reports.
A furnisher under the FCRA is an entity that provides information about a consumer to a consumer reporting agency.
The FCRA provides for exceptions to following certain procedures, such as when an employer conducts its investigation by contacting prior employers of an applicant or employee.
Generally, prior to taking any adverse action against an employee or applicant, the employer must provide the applicant or employee with a copy of their background investigation report and a summary of their rights as provided in the FCRA Summary of Your Rights notice.
An applicant and employee should have an opportunity to respond to any inaccurate information. "One wrong piece of information on a person's credit report can have destructive consequences that follow a consumer for years," said CFPB Director Rohit Chopra. "Companies that fail to address consumer disputes in accordance with the law properly may face serious consequences."
A consumer may dispute the information with the company creating the report and should do so promptly.
Consumer reporting companies must investigate all disputes that are not frivolous or irrelevant. Consumer reporting companies and furnishers of such information may be subject to legal action under the FCRA if they fail to or improperly investigate disputes. Such legal action may be taken by state or federal authorities or privately by a consumer.
Once a person disputes the accuracy or completeness of information, the consumer reporting company must notify the entity that originally furnished the information within five business days. In addition, the consumer reporting company must give the furnisher all relevant information provided by the person in support of the dispute. So, if you need to dispute information, be sure to include all information that supports the dispute.
We hope you find this information useful, as with any legal issue, you should speak to a professional well-versed in employment law and compliance with the FCRA. The National Association of Consumer Advocates (https://www.consumeradvocates.org/findanattorney/) has a list of attorneys throughout the country that focus on the FCRA. Additionally, the CFPB and the Federal Trade Commission websites provide helpful information about consumer reports to help employers, employees, and applicants who have questions.
The information provided does not, and is not intended to, constitute legal advice; all information is for general informational purposes only. This information may not constitute the most up-to-date information. The links provided are only for the convenience of the reader, A. Ferraris Law, PLLC, and its members do not endorse the contents of the third-party references.
Copyright©2023, A. Ferraris Law, PLLC. All Rights Reserved.