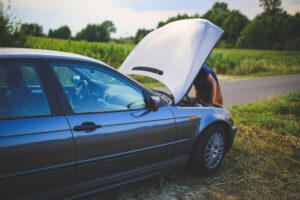 You may be a victim of unfair and deceptive practices if you weren't offered a refund or replacement vehicle when you were sold a lemon. You should know that federal and state laws protect consumers from cars that require constant repairs, even if the repairs are made for free under a warranty. If the dealer or manufacturer will not honor the warranty and comply with the law, you should seek the help of an attorney.  An attorney who understands the legal obligations can help you understand your rights and help you to educate the dealer and manufacturer regarding your rights to a refund or the replacement vehicle that you deserve. 
Federal and Arizona Lemon Laws 
The Magnuson-Moss Warranty Act,  among several other warranty/contract laws, protects consumers when a product "persists as defective after multiple unsuccessful repairs" or the consumer is not able to use the vehicle (including RVs) for a total of thirty days. In such cases, the warranty is breached and the consumer must be refunded or given a replacement vehicle. Arizona's  "Lemon Law" for new cars mandates a warranty of two years or 24,000 miles for any new vehicle purchased in the state. Arizona's implied warranty of merchantability (used-car lemon law) is 15 days or 500 miles after you buy the car. The 15 days of the used-car warranty is tolled (extended) if during that period the vehicle fails. The extension also includes the period(s) of repair so, essentially, the period of the protection continues until the repair that arose during the initial 15 days after the purchase is successfully completed. Additionally, any miles that accrue in connection with the repair are excluded. 
When a new car is sold with a warranty, under various state lemon laws including Arizona, a car is presumed to be a "lemon" when there's an "unreasonable repair history."  Generally, an unreasonable repair history is four or more repairs for the same or related problem, or the car has not been available for use for 30 or more days. Under the used-car lemon law, the implied warranty is met if the vehicle functions in a safe condition and is "substantially free from any defect that limits its use on any public highway." You should know, under the law, that a consumer does not pay the dealer more than $25 for the first two repairs to bring the used vehicle in compliance with the implied warranty of merchantability.  
What You're Entitled To If You Bought A Lemon 
If you purchased a lemon in Arizona, you may be entitled to choose (a choice) between a refund of the purchase price of the vehicle or a comparable replacement vehicle. You have a right to these remedies even if the seller claims that your car is "finally fixed" and the repairs were done for free under your warranty.  
You should know the Magnuson-Moss Warranty Act and Arizona's new-car lemon law have fee-shifting provisions that allow consumers who prevail on their claim to recover attorney fees and legal costs. If you're not able to negotiate and settle your claim satisfactorily on your own, you should speak to an experienced attorney about your rights. You may not be aware of certain facts and laws that could help you pursue recovery from a dealer, manufacturer, and possibly, the financial institution (if the new/used vehicle was financed through a dealership) for the breach of warranty or other possible fraud-related claims. 
Copyright©2020, A. Ferraris Law, PLLC. All Rights Reserved.