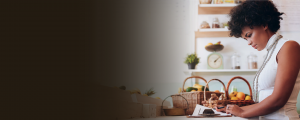 We put together some tips on how to improve a business and workspace: 
Organize. Getting organized is a key to improving your business or employment skills. Many software-as-a-service (SaaS) tools exist to increase organization. Online programs such as Slack, Asana, Zoom, and Microsoft Teams, are types of platforms that assist businesses and employees to collaborate more efficiently. Keeping your office and desk tidy will help you be best prepared for every day. For example, adding a few shelves for vertical storage can improve your workspace and efficiency. 
Manage accounting records. These are records involved in the preparation of financial statements, for potential audits or to help you seek capital (loans). Accounting records generally include records of assets and liabilities, transactions, ledgers, journals, and any supporting documents such as checks and invoices. Keeping records organized in folders will help you respond to requests for such records by a tax authority or a financial institution should you seek a loan. 
Keep track of customer support. Create systems and procedures for keeping track of those that seek you out. Right from the first contact, you should have a system to follow up in a timely manner and provide helpful information to potential customers. It should be evident, to those that take the time to connect with you, that you have a process that strives to provide value to them. 
Additional Tips to Improve our Work: 
Continue to challenge yourself. In order to grow, you may need to fail.

 

Make sure you are doing work you care about.

 

Put service front and center. While profit and earnings are important, focus more on providing opportunities to share the value you deliver. 

 

Take risks and fail. In the end, we don't regret failing; we regret not trying.

 

Have a clear vision of what service and the value of it that you want to deliver.

 

Manage your energy, not your time.  Your energy will limit what you can do

,

so appreciate and manage it wisely.

 

Hire or join a team based on character and values. Skills can be taught; personal values cannot be taught.

 

Plan how you will gain access to capital because it will likely take a long time to figure it out.

 

Ask for feedback, listen to complaints

,

and respond. Complaints are a great resource for you to learn how to bring better value.

 

Don't go for the quick buck. If you learn your industry really well, it will provide opportunities to excel towards your vision.

 
The information provided does not, and is not intended to, constitute legal advice; instead, all information is for general informational purposes only. This information may not constitute the most up-to-date information. The links provided are only for the convenience of the reader, A. Ferraris Law, PLLC and its members do not endorse the contents of the third-party references. 
Copyright©2022, A. Ferraris Law, PLLC. All Rights Reserved